Special Interview Vol.3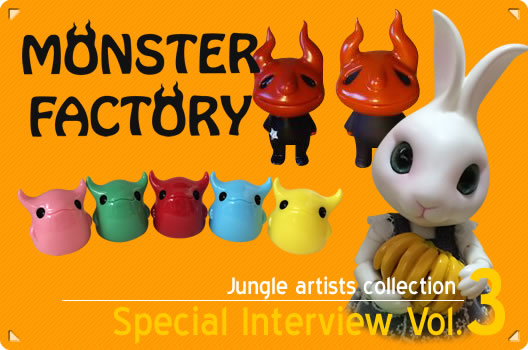 (JUNGLE/JGL) First of all, we would like to know under what concept you started MONSTER FACTORY's creation.
(MONSTER FACTORY) I create without rough scratch or thinking about the final formation; it always starts with clay. Once it is finished, if it looks like a monster, then it is a monster. Later on, by the time Precchero was created, I had fully imagined the story in my head.
The story was written from this point, even though without Jonny, Precchero made a lot of good friends.
(JGL) Since you have created so many monsters, is there any comment point or rule when creating them?
(MONSTER FACTORY) I am always searching for the beautiful line, the correct curve for each of them. I also want them to look up; I thought looking up will bring good luck, it also means being positive, toward to the future.
(JGL) Just like Powanon! I was touched by Its looking up face.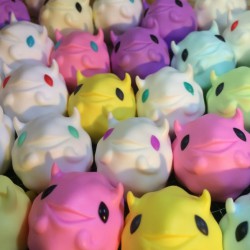 (JGL) I have heard that each artwork has a story; could you tell us where you had the inspiration?
(MONSTER FACTORY) The story, name ,and personality were all flowed into my head when modeling them. Some of the monsters tell my "do this, do that" when creating, others just acting odd and looking forward to be created. From that, I can decide what to do with these kids.
(JGL) Is there any character leave you deep impression? If yes, why?
(MONSTER FACTORY) My top of the list is Jonny.
MONSTER FACTORY has come all the way with Jonny, and we are just like the best partners. I can't forget the impressive moment when first time Jonny got duplicated and painted.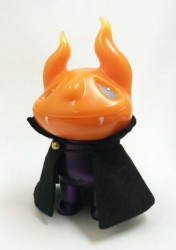 Johnny (Halloween) Available now!!
http://jungle-scs.co.jp/sale_en/?page_id=116&cat=408&ra=&st=&kw=
(JGL) By whom do you prefer getting your artworks.
(MONSTER FACTORY) The ones who really love monsters.
(JGL) It sounds like the monsters are really your kids.
(JGL) Please let us know your goals or the things you want to challenge.
(MONSTER FACTORY) I have been thinking about a sofubi figures for babies all the time. I like them but had no thoughts about making them until my son was born. When thinking about if it sells, it is hard to decide making it or not; however, when it comes to the material and design, also the good effect to the baby, it makes my passion go up.
Also I want to make something like a resin doll that can be functioned by the rubber band, a sofubi doll. There is too many to think of.
(JGL) We are looking forward to seeing the moveable animals or monsters dolls!
(JGL) Our last question: please let us know if you have any announcement.
(MONSTER FACTORY) Right now I am not having any plans of holding an exhibition; however, you will be seeing me in the events of design and doll. There is also a time limited personal Web shop available; if you find the one you like, I will appreciate for taking care of it!
(JGL) Thank you for sharing the valuable stories! It would be great if I could also heard the voice of the monsters and let everybody know. Thank you very much!
(MONSTER FACTORY) Thank you very much, too!
Monsters that were made with the sensibility of feminine are always nearby with a smile.
They look lively in the photos when you take them into the nature.
How about taking the monsters out on your off day, too?
Dolls from Monster Factory will also partecipate to the JUNGLE sponsored Doll Event (Doll's Fan Meeting No.4)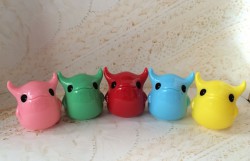 A new Bulma's soft vinyl will be introduced.
The Mitsurin booth at the Design Festa and the Jungle handling are also decided.
MONSTER FACTORY's official Site!
If you like us, please click [LIKE]!


ツイート