Special Interview Vol.1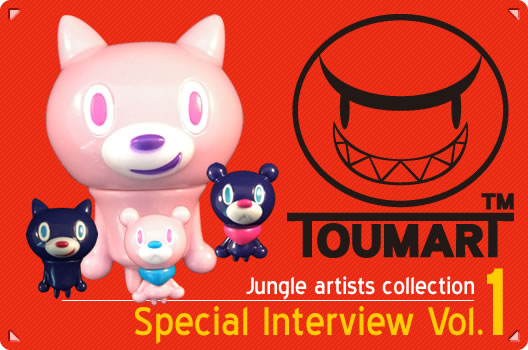 JUNGLE Artist Collection is the project that presents by JUNGLE to the world.
The interview project we are holding is a new special project that you can only find HERE about the artists of JUNGLE Artist Collection.
Our first interview is the representative of TOUMART, TOUMA!
(JUNGLE, JGL below): First we start with When you are designing a new character, what do you care the most?
(TOUMA)The part I pay most attention to is the "individuality"; how to make people to know instantly this is made by TOUMA is the top of my consideration.
Moreover, I always image how the character will be used when creating ; this is my principle. If it should be a SOFUBI (soft vinyl figure) character, an original by a client, what kind of roll it will play, or if it will become a mascot character for a shop.
In the end, the creation should contains both my top concerns "individuality" and the "usage".
(JGL)What character or job impress you most?
(TOUMA)The character is the KNUCKLE BEAR. It was my very first SOFUBI figure and was sold exclusively at the Tower Records in America, which also helped to bring me my fame. KNUCKLE BEAR is truly my masterpiece.
Also, having a chance to work on official collaboration with STAR WARS was really important. I was really happy about it. I love this piece so much that I drew a lot of Jedi Council members even I was not requested to do so.
( JGL) By what kind of people do you wish your works to be picked up?
(TOUMA)The people who like my works and the people who share the same taste with me.
I understand that there are some people own my works but feel nothing about it. I really appreciate the ones who feel something about my characters and cherish them. I believe my works will feel happy that way.
(JGL): TOUMA used to work in a famous game company.
Please tell us something you have learned from your previous Gaming Company job that affects you most.
(TOUMA)I learned a lot of things from that Gaming Company. For example, how to work on things, the creation of a character, relationship with other people… There is also a special character creating method only to be found in the Game Creation field such as dot drawings, making of polygon models, animation of polygon models…etc. Those methods still now influence my creations.
From all of above, polygon model has deep relation with my works until now. The game field nowadays use about thousands of polygons during creation; back to my time, we used only max 500 polygons when creating. You can understand how few 500 polygons are if you try it yourself. For the parts that are easy to be seen, like face and upper body part, are made with more polygons to prevent edgy looking; for the parts like fingertips that are not easy to be seen less polygons are used and that makes them look edgy. Without realizing it, my early KNUCKLE works were made exactly this way; the time I finally noticed it was when having an interview overseas.
I really think learning the making of polygon models affected me very much.
(JGL)Please let us know about your events in the future.
A: It will not be only in Japan. I want to show my works to the people overseas as well: Taiwan, Hong Kong, and America. I like America very much and want to join a lot of activities there.
(JGL): As it is the end of this interview, if you have any new announcement, please let us know.
A: I am currently engaged with an event management called CRECON in Osaka. We want to promote this field in Japan from local cities, and show the world how godd the Japanese creators are.
CRECON is still a new-born event; we wish to make it a renowned world-class event.
(JGL): Thank you for sharing us all the information!
We will try our best not only supporting TOUMA's art works, but also to enlarge
CRECON to all the audiences over the world.
(TOUMA) Thank you so much!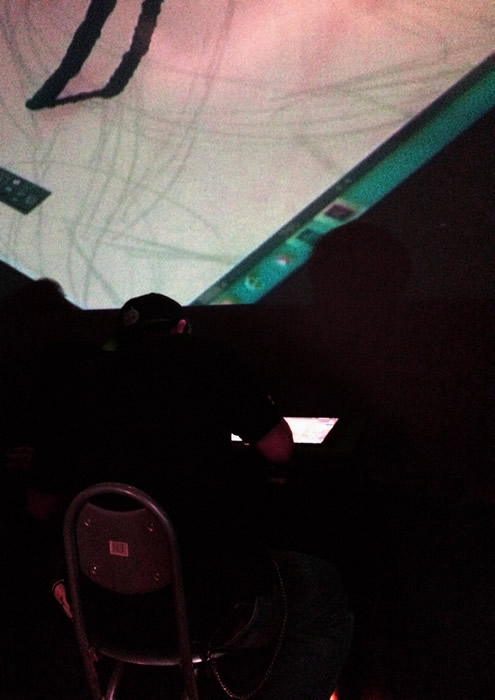 TOUMA with his live painting.
One scene at the event where music and images crossing through.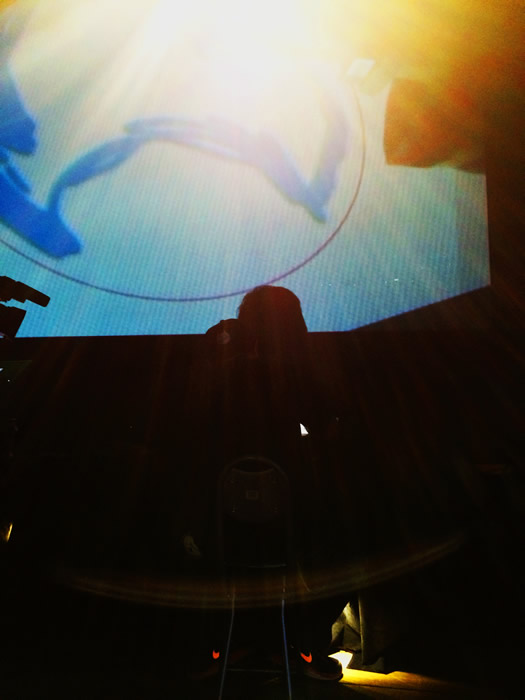 This is the moment the piece to be born.
It is a scene you can see at CRECON of how an art piece is born.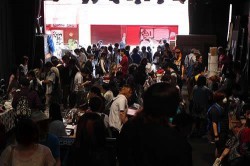 It does not matter whether it is the first time Creator Convention is hold, the Pop Art fans from all over the country came to join it.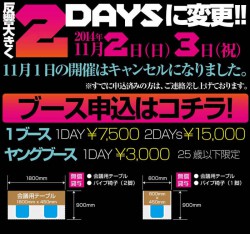 We have decided to hold the second CRECON, please come and join us!
For more detail: http://www.creatorconvention.com/.
Purchase TOUMA's works from here!
If you like us, please click [LIKE]!


ツイート