Special Interview Vol.2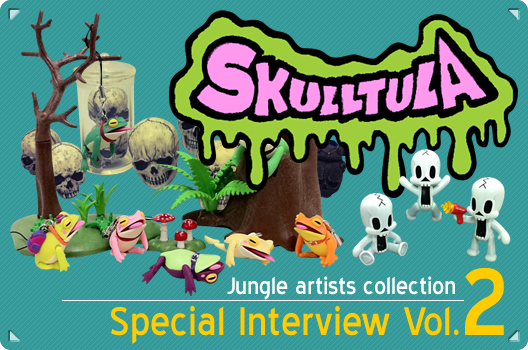 JUNGLE Artist Collection is the project that presents by JUNGLE to the world.
The interview project we are holding is a new special project that you can only find HERE about the artists of JUNGLE Artist Collection.
The 2nd Interview is SKULLTULA, HERE WE GO!
(JUNGLE,JGL below) First of all, what was the impetus to come with the concept of SKULLTULA?
(SKULLTULA) Making the figures that can be played with.
I wanted to make the items that I desired. I am obsessed with seeing my creative process through from scratch to finish and to produce items that are very desirable to other people.
(JGL)Is there any character or work that made a deep impression on you?
(SKULLTULA)That would be "Osanpo Kaeru" (Walking the frog).
I made an item called "Kubitsuri Kaeru" (A Hanging Frog) for an event, it was a frog figure with a noose around its neck that I sold personally there. A toy maker was interested in this item and produced it as capsule toys. Since a noose around the neck isn't really a good image when selling toys, the rope was replaced with a dog collar and the name changed into "Osanpo Kaeru" (Walking the frog). It was a bit of a compromise, however, thanks to this frog I had many doors opened to me.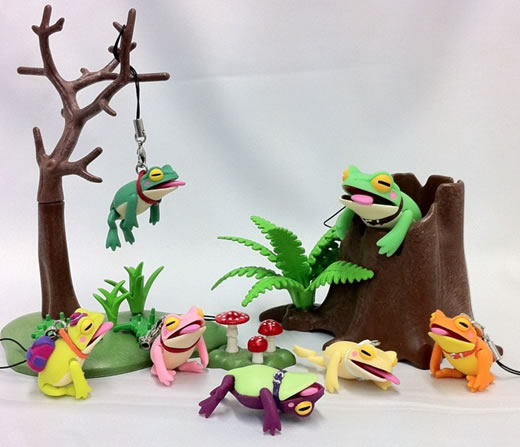 (JGL) You often make designs in skull motif, is there anything relation to your name?
(SKULLTULA) he name SKULLTULA was a combination of "SKULL (scul)" from the clay Sculpey and "TULA" from spatula, which means by only the clay and one spatula can make the whole thing; also I like bones so I took the word SKULL in it.
I like bones since I was little. My bone collections include toys to the real osteological collections; they are part of the interest and database. For a life-long work, it is a motif that you'll never get tired of. Regarding to that, I will keep on making the skull-things.

SKULLTULA, real skull series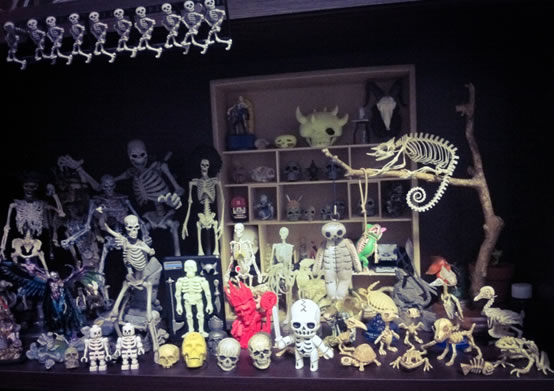 Bones toy collection
(JGL)What do you care the most when disigning?
(SKULLTULA)SKULLTULA style is a deformation figure with characteristic of real motif. By adding detail on the deformation is really easy but sometimes it becomes over reality, and this is the point where needs to be carefully handled.

SKULLTULA deformation skeleton series.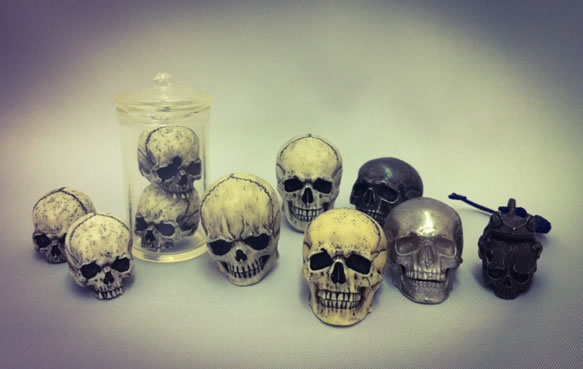 We also make a normal proportion series.
(JGL)Is there anything you want to challenge or give it a try?
(SKULLTULA)Making specimen bottles or goldfish bowls by sofubi (soft vinyl). I have made the skeleton with movable limbs and weapons holding in the hands that I have dreamed of, perhaps my next step will be the vehicles or monsters. But, it needs a lot of funds to make big items… I also want to make some limited items for JUNGLE, who has been supporting me very much.
(JGL)Please let us know your future event.
(SKULLTULA) I will be attending the festival that is going to be held in Taipei this October (2014). From then, my new challenge will be the world.
(JGL)If you have any announcement, please let us know about it.
(SKULLTULA)My new sofubi "Kaikochu" and Skull Gray is sold at JUNGLE Artist Collection; I am also attending Wonder Festival and Design Fesa…etc. If you see me, please feel free to come by and say hi!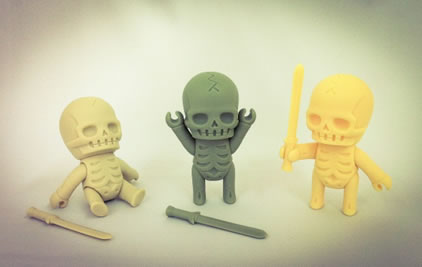 SOFUBI GAIKOTYU swordsman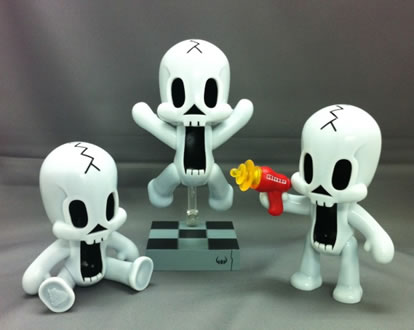 SOFUBI SKULL ALIEN 「SKULL GLEY D96」
(JGL) Thank you very much for today.
(SKULLTULA) Thank you very much!
Purchase SKULLTULA's works from here!
If you like us, please click [LIKE]!


ツイート